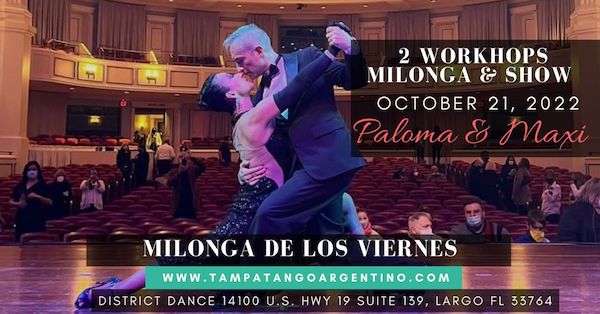 Workshops, Milonga and Performance by Paloma & Maxi
Friday, October 21st
7:00pm – 12:00am
District Dance Academy (large room)
14100 US Hwy 19 N Suite 139, Clearwater, FL 33764
EARLY BIRD EXTENDED (DUE TO HURRICANE IAN) by October 7th, 2022
Two Workshops + Milonga & Performance
Join us for an exquisite night of workshops, dancing and spectacular show as we welcome one of the top argentine tango instructors and dancers of the moment, Paloma Berrios & Maximiliano Alvarado.
Don't miss this GALA night!  
Seating is first come, first served (unless reservations of 10)
Bring Your Own Drink
Light Snacks will be available
6:45pm: Doors Open
7pm to 8pm : Milonga – Accelerations and cuts
8pm to 9pm: Tango – Smooth Walks & Turns
9pm to 12am: MILONGA & SPECTACULAR SHOW
Get your tickets today (Early Bird)
1 Worskhop + Milonga + Show = $40
2 Workshops + Milonga + Show = $50
Milonga & Show = $25

*Paid reservations of 10 includes FREE bottle of wine*
* Note that a 3.9% convenience fee is included in the price below if using PayPal (Buy Now Button).
You can pay via Venmo and avoid convenience fee, but don't tag purchase as service as it will apply a fee on us.
Please note that tickets are non-refundable.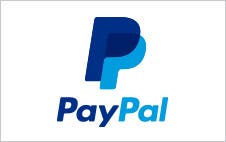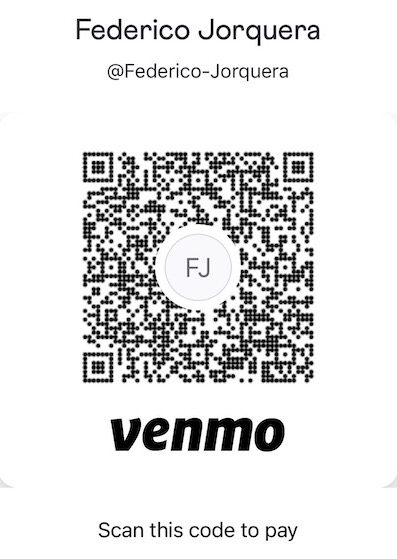 The Venue – District Dance Academy
14100 US Hwy 19 N Suite 139, Clearwater, FL 33764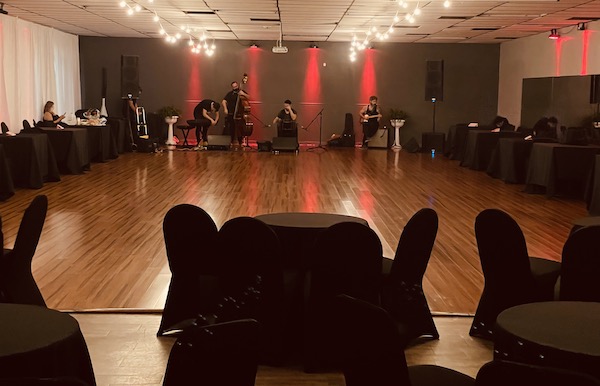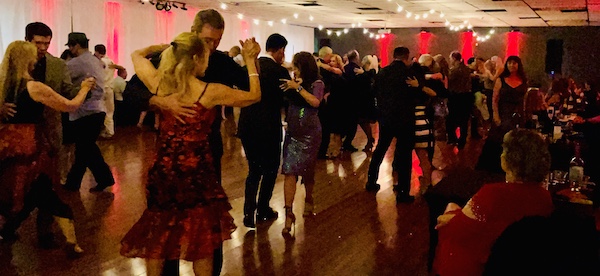 Paloma & Maximiliano, native from Santiago – Chile, has been dancing together for 25 years. Since they were young, they share the passion for Argentine Tango as a heritage from their parents. They were formed in Chile and Buenos Aires, with many argentine masters. They have been touring through South, North America and Europe and are one of the top dancers and instructors of Argentine Tango today! 
They won the 2nd place in 2007 in the Worldwide Tango Championship in Buenos Aires and the 1st place in 2008 in the Trex Games TAFISA worldwide competition in South Korea
WE LOOK FORWARD TO HOSTING YOU!
DON'T MISS IT